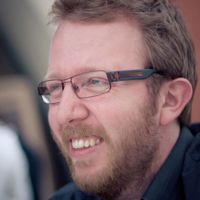 My name is Emil Johansen, though I generally make the most noise under the alias of AngryAnt. I work as a freelance game developer, specialising in AI – with extensive experience with Unity.
When I am not working on a contract, I spend my time building AI middleware. This site serves as my base of operations for both of these activities.
In addition to this I also make available what video material I can find of previous talks and similar. Some information does not stretch for a full talk though and so I turn that into articles published in the feed.
Freelancing
If you are interested in working with me in my freelance capacity, I have set up a page with further information and a dedicated contact form. An overview of my previous contracting experience is available on that same page.
Behave
The Behave project is a system for designing, integrating and running behaviour logic. Complete with a visual drag-drop designers, compiler, quick runtime and great debugging tools, Behave gives you an edge both at initial design time, performance-wise and in iteration.
The default Behave license is available for use in the Unity editor and for the Unity runtime. Alternative licensing and additional platforms are available.
Tools
Aside from Behave, I have a few minor projects you might find useful. The tools section provides a brief overview of these.