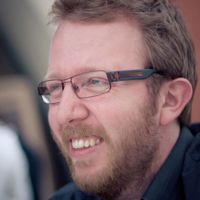 My name is Emil Johansen. Welcome to my site.
I work with the production of, generally digital, games and related technology – with a particular fondness of the artificial intelligence aspects of game development.
Under the alias of AngryAnt I conduct business (freelance and middleware development) and participate heavily in the game AI- and broader game development community.
In my day to day I have partnered up with a couple of friends in the outfit framebunker, where we craft your next favourite titles. I am also one of the chief trouble makers behind Game AI North.
On this site you can find a bunch of resources – articles, videos, and such – including the Behave AI middleware solution. While I no longer directly freelance through here, do reach out to framebunker. With our combined experience, we are able to reach much farther in terms of solutions available to you.